About us - Kasa's Cellar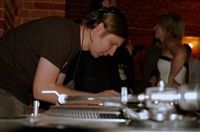 KANA'S CELLAR
Our motto is a statement of the famous avant garde theatre director, Tadeusz Kantor, that any artistic revolution is evoked in coffe bars. Our place is open to any creative events: films, meetings, discussions, concerts and first of all unexpected and spontaneous happenings caused by the exceptional visitors of the Kana Cellar who contribute to the unique vibes of the place.
The Kana Cellar is also a gallery presenting monthly works of young artists and pointing out current and possible directions of development of art. The gallery organises group exhibitions, workshops, and meetings with artists of various studios, enabling to compare attitudes and exchange experiences, various creative circles, both students and professors.
Other assets of the Kana Cellar include:
delicious coffe
good quisine
wide selection of beer (wheat, unpasteurised, black and others)
FreeHotSpot
room for non-smokers
nice service
We are open every day at 3 p.m.
Piwnica Kany
Plac. Piotra i Pawła 4/5
70-521 Szczecin
Booking and information --- tel. 091 434-15-61 (3 p.m. to midnight)
Event Manager --- info@piwnicakany.pl