Projects - theatreuniversity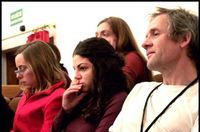 THEATREUNIVERSITY
"theatreuniversity" is to the project initiated by the Kana Theatre in cooperation with the academic circles of the Szczecin University, Viadrina Univesity (Frankfurt am Oder), Warsaw University and Erns-Moris-Fritz-Universitat in Greifswald. The project is a specifically understood, informal "theatre school" based of combining theory and practice. Active involvement of the participants of the project in festivals and artistic events organized by Kana Theatre is the important aspects of the "theatreuniversity" - to the point of participating in decision making process on shape and form of theory/workshop part of the events.
Within the regular program meetings (realized on the basis of topics selected together and especially interesting to the participants), festivals, workshops, seminars, presentations of artistic activities the participants of the project have the rare possibility of direct meeting with selected artists and theorists of theatre that helps to confront the gained knowledge and the ways of thinking of theatre with opinions of interesting theatre personalities.
The project is open to all, the only condition to be included in the group is active participation in the regular meetings.